Sugar effect
The sugar effect, also called the sugar effect, is a rough aspect created with very fine specific flakes. This technique makes it possible to give relief to all or only one part of the nail. In addition, this Nail Art can be declined in several colors and different patterns, and it is very easy to adapt it to all circumstances!
The following steps are done after shaping your construction and applying a colored layer of permanent varnish or colored UV gel:
Apply over the color a coat of finishing gel without catalyzing it
Fully sprinkle the nail with the glitter of your choice from 0.04mm to 0.06mm
Catalyze under UV/LED lamp for 2 minutes.
Remove excess glitter with a brush
Rubbed effect
The rubbed effect, commonly called the mermaid effect, leaves a beautiful metallic/pearlescent finish on the nail. It can be made with very fine specific glitter or powdered pigments which makes the effect even more pearly. The advantage of this Nail Art technique is that it will transform a simple color into a chic and glamorous rendering.
5 steps to achieve a rubbed effect on the nail:
Sprinkle the glitter liberally over the sticky residue of the color
Rub / Massage the nail gently with the tip of your finger
Remove excess glitter with a dust brush
Apply a thin layer of finishing gel
Catalyze 1minutes under UV/LED lamp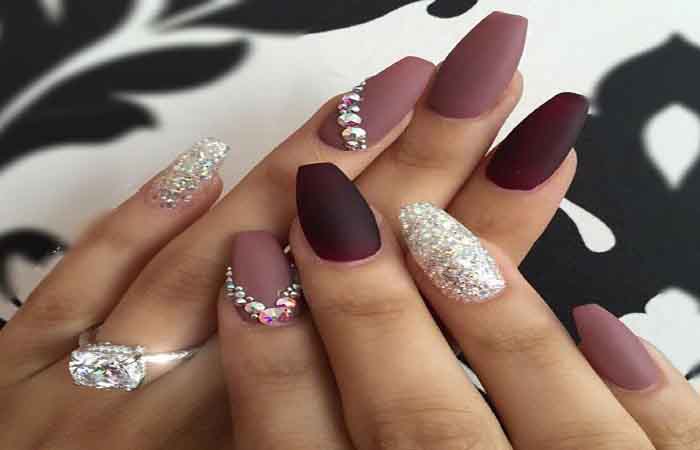 Dusted effect
This effect makes it possible to give a more or less glittery finish to the color that has been applied. Compatible with all shades, don't hesitate to play with contrasts and material effects by alternating, for example, a matte finish and a throw of glitter.
There are two ways to get a glitter finish on our pose:
On top of the second layer of color and before catalysing it, lightly dust the glitter on the nail with a fan brush then catalyze.
Apply the finishing gel and gently sprinkle the nail with glitter then catalyze.
In conclusion, each of the 3 effects offered will give your manicure a unique sparkling finish.
Before starting your manicure, make sure you have professional manicure set. If you don't have, don't worry. Don't worry, if you don't. There are a rich assortment of nail supplies in our store, Please have a look!
Read also: Nail art: 5 trends for winter
Source: