It's swimsuit season, and what better time to rock a retro look than while sunning yourself poolside?
These vintage-inspired and retro bathing suits are all darling, and beach-ready!
1. Navy blue classic haigh waisted retro bikinis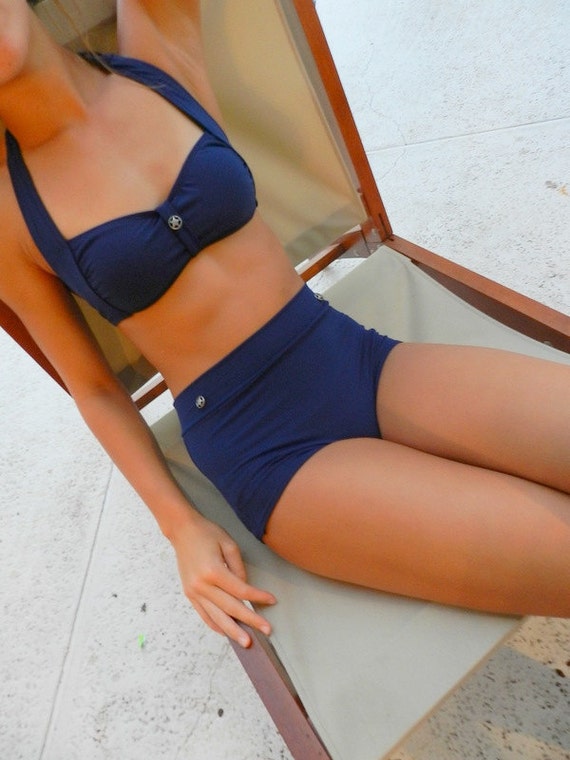 Super flattering high waisted bathing suit. Feature silver star bottons on the front and adjustable tie back halter.
2. The high waist bikini
This retro inspired high waisted bikinis works well for almost all body types, whether you have the perfect bikini body and you want to have a trendy look, or you want to cover the stomach area that was a result of not having time to work out.
3. Black & white polka dots
Come from wrap halter top and high waist bottom, it's retro but also sexy.
4. Strapless one piece wonder
5. Aztek Printing
This one piece swimsuit allows you to stay covered and sexy at the same time. The modern back detail gives you a new look by showing a little skin while staying modest at the same time.
6. Poppy peplum style suit
This two piece is fun and flirty. With the added peplum you will be able to pop and stand out by the water.
7. Sides sash
This one piece is super fun and sexy! The sash pulls in the waist and gives you that Coke bottle shape!
8. Watercolors and chevron
This vintage one piece swimsuits gives you the classic fit of the 50s, while the mixed matched color combinations bring in the current style of today. These fun and flirty colors will get the attention of all on the people under the sun like a pin up swimsuit.
9. Pin up red & white
Original Red Dolly Vintage design. Halter style top, gathered center bust. Has lining with elastic under bust.
10. Pretty in pink
This is designed to not only offer a chic and sexy summer feel but also to make you feel confident and glamourous on the beach.
11. Full coverage
This stunning 1950's style one piece bathing suit has definite retro appeal with its red and white polka dot print. Great for women of all ages, and as well as looking fabulous it is designed for swimmers so of course you can take a swim without any worries.
12. Seafolly garden boyleg
When it comes to Aussie beach life, nothing makes a splash like Seafolly, one of the world's most recognized swimwear brands and a mainstay of Australian beach culture since 1975.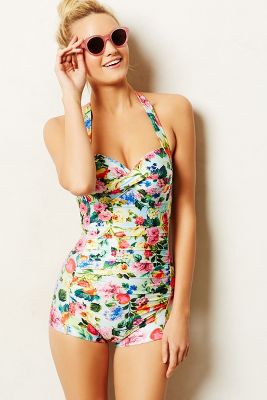 Source: allwomenstalk.com