In the increasingly fierce landscape of true wireless headphones , we have long talked about the Pamu Scroll , quite valid options in the industry. A hugely successful project (over $ 4 million) at Indiegogo, a crowdfunding platform on which new debuts now debut Pamu Slide. Padmate returns to the front in this market segment, trying to raise the bar even higher. Will it be successful?
Unboxing
Nothing special inside the Pamu Slide box. Inside, therefore, we find headphones and a transport dock, plus pairs 2 of spare rubbers, a Type-C USB charging cable, and related manuals.
Design
Compared to the scrolls, Pamu Slide has adopted another style for both headphones and dock. Although there are always headphones , here we no longer have a "capsule-like" shape, as a stick that follows the lines defined by the AirPods has been implemented. Among other things, there is also a certain resemblance to TicPods Free , which differs for IPX6 certification . This does not mean that you can shower together, but do not be afraid of rain or similar situations. Technically they should be able to get up in the shower, but I advise you not to try.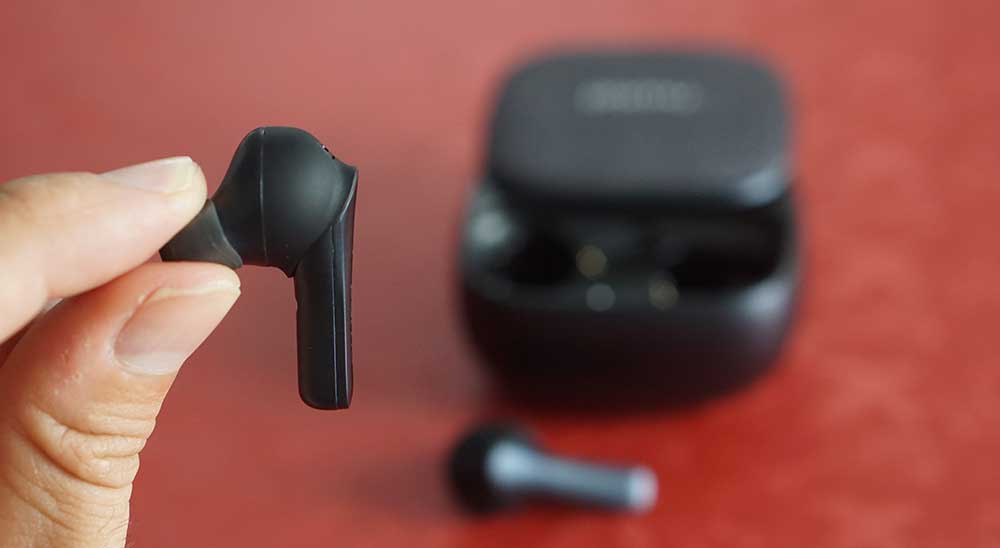 Pamu Slides are in-ear headphones, and that makes them very firm after use. In addition, Padmate decided to cover them with a silicone case that, in contact with the auricle, gives even more stability. Therefore, they are always firm in their homes, even running with them. On them is also a status LED, which lights red when they are charging and shuts off once charged. What I do not understand is because when turned on, every 5 seconds should flash blank. It's probably an irrelevant detail, but if you find yourself in the dark, it can be annoying to the people around you.
Like I said, even the dock has been drastically altered by Scrolls. We now have a much more invasive shield , both in weight (135 g) and dimensions (7 x 4 cm). Compared to the usual TWS headphone station, the Pamu Slide is almost twice as large, resulting in not very easy to carry . In addition to the specific sliding opening from which the name derives, at the top there is a fabric cover. A satisfactory solution for vision, but in the long run it could accumulate dirt and potentially ruin it. And the sliding door has a little play, not giving back an extreme sense of solidity, but not even fragility.
As with Pamu Scrolls, Pamu Slides also enjoy the latest Bluetooth 5.0 standard , so there is no delay during video playback. But the real news is in the implementation of the Qualcomm QCC3020 chipset . This ensures that the codec is aptX supported , with a maximum bit rate of 352 kbps and a very low delay.
An always crucial aspect when it comes to TWS headsets is the touch controls . First of all, the touch area is just the top, so you can put the headphones on by touching the bars without having unintentional touches. In addition, Pamu Slide has all the commands you might want , as you can see in the infographic below. There is a command to turn them off, but just unplug them from the connected device, and after a few seconds, an entry will confirm their automatic shutdown.
As for phone calls, you can enjoy good stereo audio and you can only use one headset (right and left). The sound picked up by the microphones is a bit muffled, thanks to the noise reduction system that castrates background noise well. Fortunately, the microphone volume is quite high, so there are no problems with the speaker.
Audio
I claim that one of Slide Pamu's "evils" is the total (or almost) absence of reported technical specifications, at least so far. This means I have no idea of ​​the audio compartment features of these headphones. " And who cares " Someone might say. The fact is that the Pamu Slide they sound very good , despite being not very balanced headphones . It is evident from the outset that there is a certain propensity to keep the low frequencies in mind, even if they are not very suffocating from mid to high. I liked the warmth of the sound reproduced, with a folder trying to get closer to the high-end headphones, almost succeeding.
The negative aspect of dock size becomes positive when it comes to longevity. In fact, not only is there a battery inside 2000 mAh , but also with support for wireless charging . Not for headsets, but for compatible devices, becoming a true wireless power bank: Just press the Back button twice to enable / disable this feature.
Obviously, having removed this aspect, the 2000 mAh contained in the dock allows you to give headphones Charging cycles 5 . This means that within them, although not specified, there must be a 200 mAh each. A not bad capacity, considering that it allows to have a duration that, during each cycle, remains 10 hours also abundant (depending on the volume used).
Now, the Pamu Slides will be available for purchase at a price $ 109 on Moldac, and you can get a pamu slide carry bag for free. A price that makes them decidedly inviting, especially if you are looking for a pair of wireless headphones exaggerated battery capacity, as well as audio quality.
Source: